About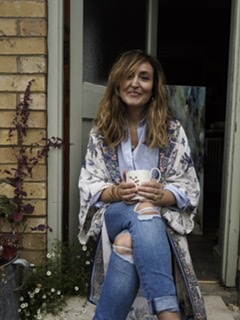 About Emma Connolly:
I am a self represented artist- ceramicist and semi-abstract landscape painter, creating elegant works in both watercolour & oil.
I create functional ceramics from porcelain as well as fine art pieces.

I work full time from my garden studio in Bedfordshire, sometimes spilling into the house.
I also spend a rather large amount of time in a caravan on a farmer's field in Suffolk.
I enjoy the solitude of long walks immersed in nature as I love to ponder and daydream and I'm perfectly happy with my own company.
I live in a draughty but beautiful Victorian house with my husband and two grown-up daughters.

My studio is at the back of the house in an old garden room and is filled with light.
My work is a conduit for my emotions- stirred from a beautiful scene in nature.

Painting and creating soothes my soul and brings immense pleasure to my day.
My wish is to bring enjoyment into the lives of my collectors through my ceramics and art.


Featured in: Meadow magazine, Country Homes & Interiors and In Her Studio.