Bio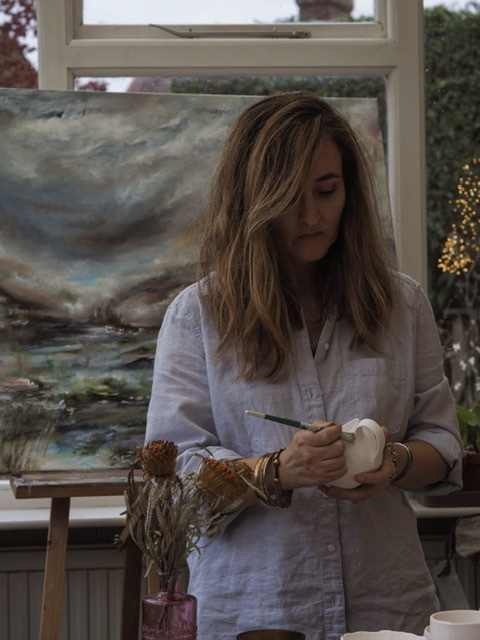 About Emma Connolly:


Artist unburdened by a conventional art degree and proudly self-taught (with a little help from my grandfather), I'm a prolific potter and designer too!


I'm a ceramicist, painter & designer creating both functional and decorative ceramics from porcelain.
Painting elegant abstracts in oil and mixed media & designing fabrics.

I strive to create beauty and make everything around me as beautiful and comfortable as possible. My aim is for others to enjoy and treasure my work and for it to bring both joy and calm.

I live in Bedfordshire in a little Victorian cottage with my husband and daughters and I also spend a lot of time in Suffolk for the quality of light.
I work full time from my garden studio sometimes spilling into the house.
I enjoy the solitude of long walks immersed in nature as I love to ponder and daydream and I'm perfectly happy with my own company. When I'm not painting or making pottery you can often find me tending to my roses and in the cut flower beds of my cottage garden that inspire so much of my work. Or shopping for beautiful antiques for my store and home. I'm a magpie for beautiful objects and studied interior design which lead to me attending night classes to learn pottery and teaching myself fabric design.

Before becoming a full time artist back in 2019 I ran A Bunch Of Wild. A floral styling and lifestyle store where I taught creative workshops and styled gardens, interiors, events and weddings.


I sell around the world via my website but you can also book a visit to my studio to view paintings or subscribe to my mailing list for open studio shop days and new art & ceramic launches.
You can also find a selection of my work at the Herbert Hedley Gallery in Petersfield.
And I regularly take part in The Dorset Brocante & Home and Vintage Living.

My art and ceramics are in personal collections around the world.

Featured in: Meadow magazine, Country Homes & Interiors and In Her Studio.